One composite point on the ACT is, on average, worth $2500 in scholarship money!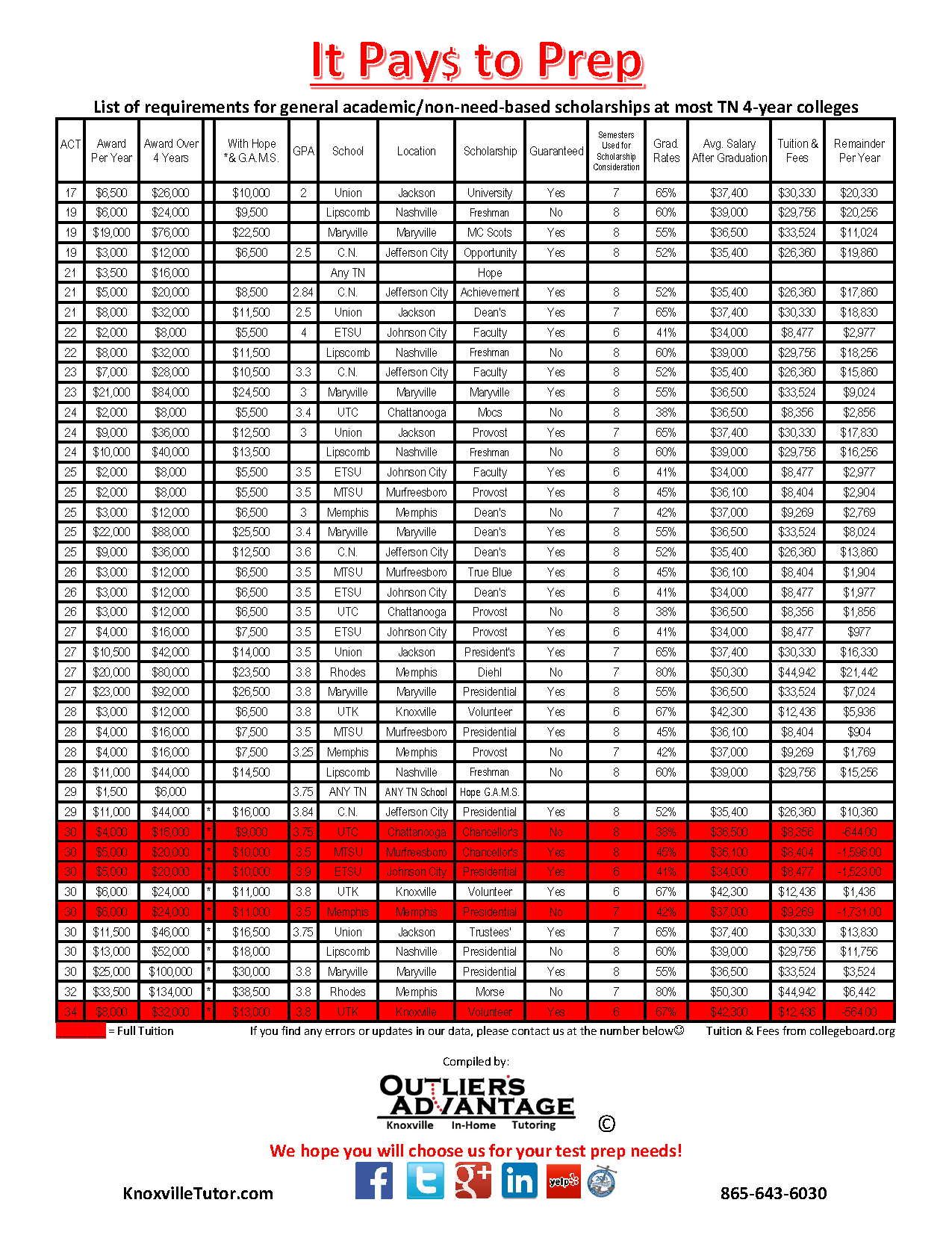 Why Outlier's Advantage?
Over the last 4 ½ years, our ACT Prep program has consistently showed top results in Knoxville with most of our students ending in the 28-34 range. More than 70% of students who complete a minimum of 7 sessions with one of our tutors increase by at least 3 composite points. We are also the trusted ACT Prep program of UTK's BETS and AIM summer high school residential programs. We are so confident in our program that we guarantee students who complete at least 8 sessions will increase their scores or we refund up to 100% of expenses.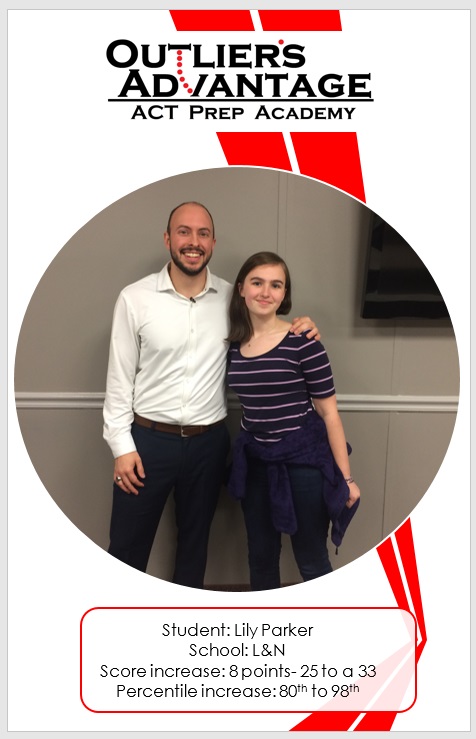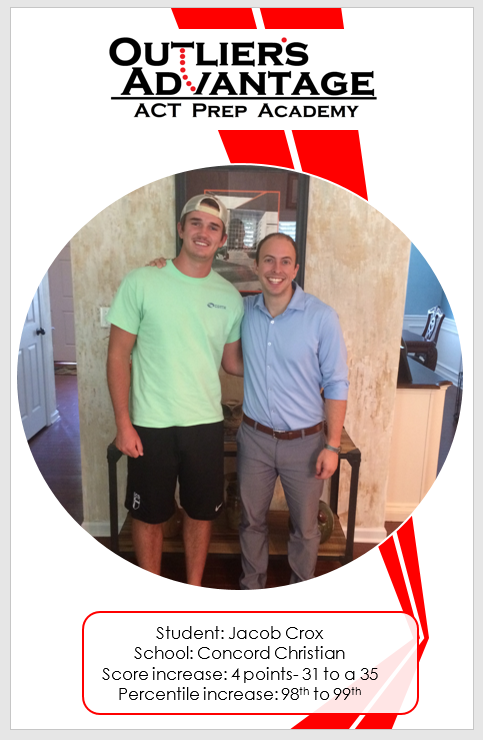 Become a master student
Apart from an increase in ACT scores, students will gain a variety of skills to help them be competitive in college and beyond. You would be amazed at how many high performing students are able to get through high school without learning effective study skills. Our rigorous program forces students to employ advanced study techniques as they become world class competitors on the ACT.

Contrary to popular belief, the ACT is a test of the basics. We rebuild core grammar, reading comprehension, reasoning skills, and math. We diagnose gaps in each student's understanding and reteach them the rules and the exceptions to the rules that are foundational to mastering this test.
Academic Coaches who care
The most unique aspect of our program, though, is our style of teaching. We consider ourselves academic coaches. We are here to help students achieve more than they think they can. We believe in them when they don't believe in themselves. We challenge them when they are confident. We call them out when we know they are capable of more. We often end up in much more of a life coaching role than just simply an ACT Prep tutoring role. This is what most of us love about the job.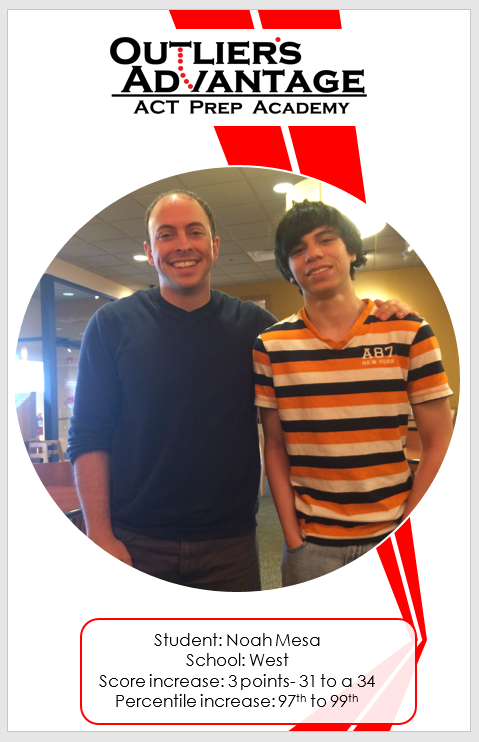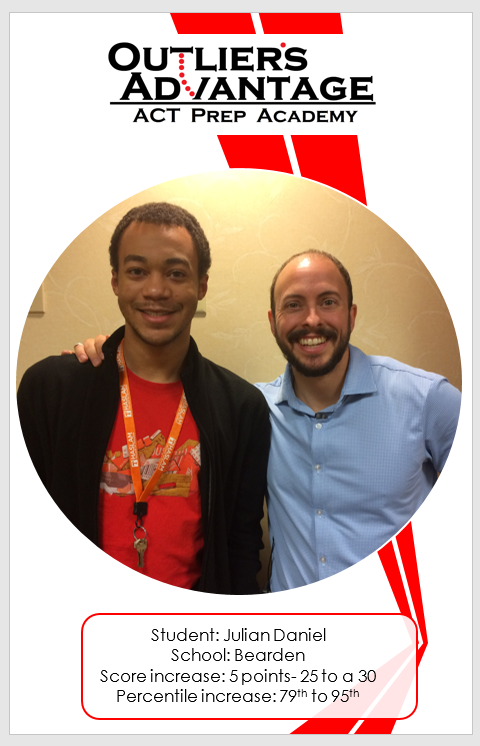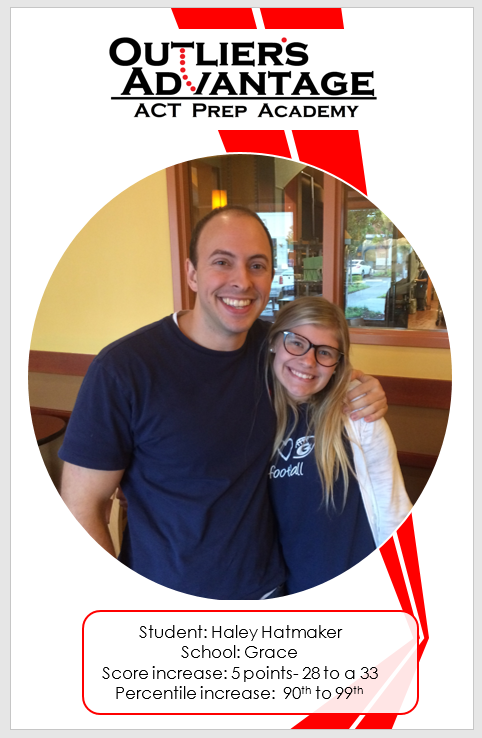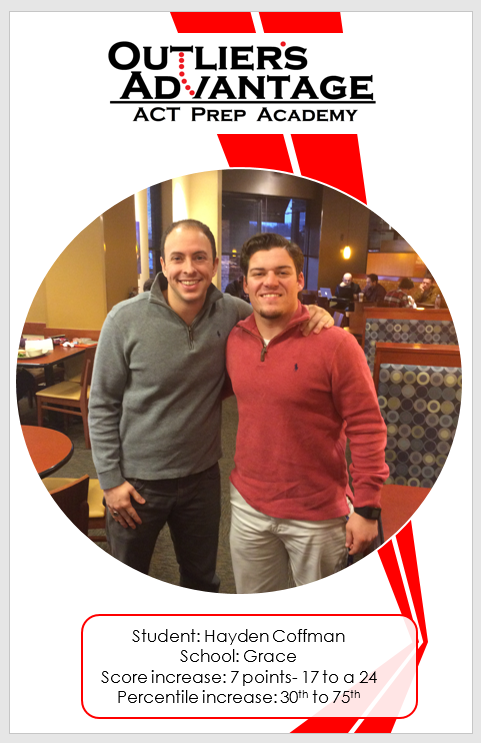 The program only works if the students do
We are not miracle workers, however. This program only works if the student is willing and wants to do what it takes to be successful on this test. This is why we will not accept students who are being forced to do the program by their parents. This program only works if the students do. Before the program even begins, we do a thirty-minute phone interview with students to let them know exactly what is expected of them. Students must commit to doing at least an hour a day of homework with only one day off each week between the time they start and the day of the test. From there, the class meets once a week for a two-hour session. Students leave class knowing exactly what they need to do each day that week. They will be responsible for doing it, though. The program is designed in a way that their homework is customized to their exact needs.

The structure of our classes
In the program, we focus on mastering one subject at a time. The program is 13 weeks long. The first four weeks are English, followed by 5 weeks of math, 2 weeks of reading, and 2 weeks of science. We follow a general structure of content then timing then strategy.
We do our best to turn ACT prep into a game. We divide the class into two teams, and the teams are competing to "win the room" each week. Every member of the team can help their team "win the room" by going above and beyond on their own homework that week. Each team has an Academic Coach from our staff who is responsible for helping lead their team to victory each week. These Academic Coaches are in touch with each member of their team almost EVERY SINGLE DAY for the three months of the program. You will not find this level of commitment to each individual student in any program anywhere. Our system works, and we just keep making it better and better every class.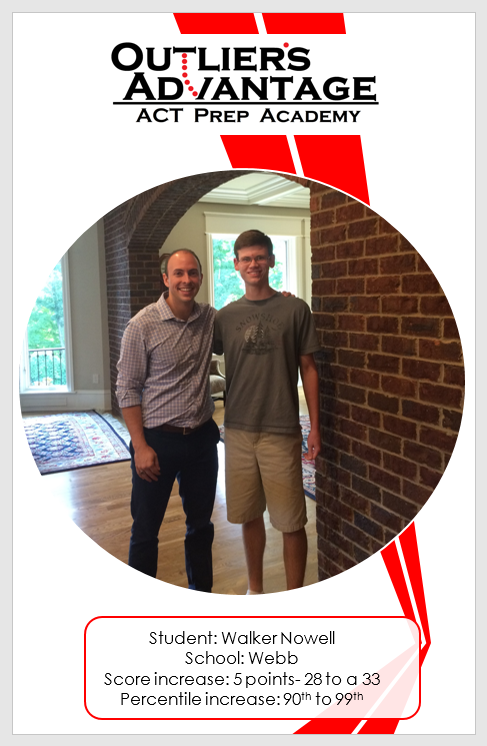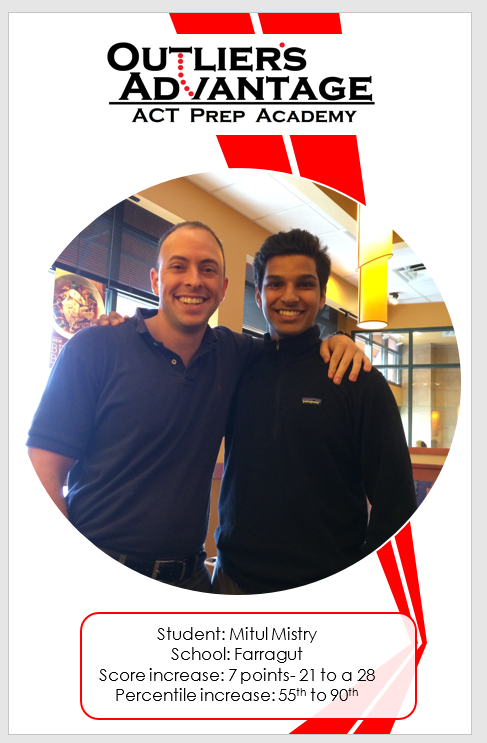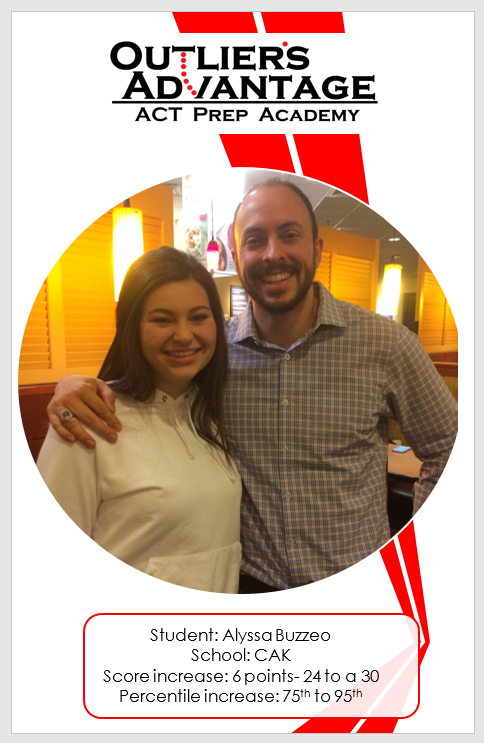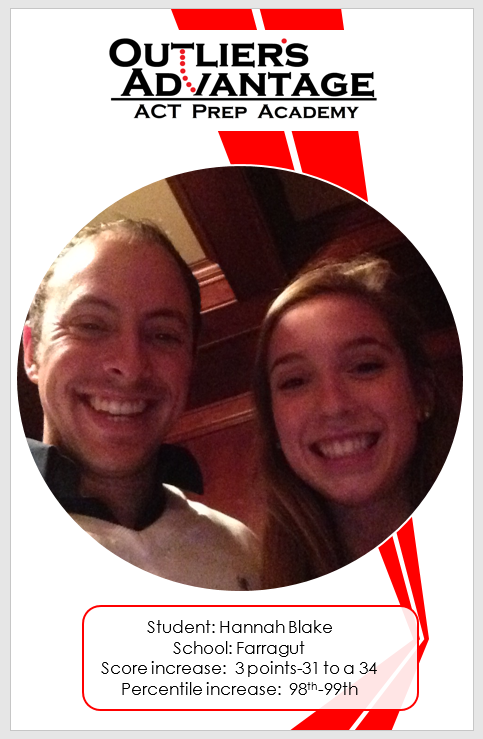 Who should do ACT Prep ?
ACT Prep is not for everyone. There are really only two reasons to do ACT Prep: for scholarships and to gain admission to four year colleges. The ACT is the absolute easiest way to gain scholarships. On average, every point on the ACT is worth $2500 in scholarship money. Most of this is guaranteed money. This means the college or university has guaranteed that if a student has a certain high school GPA and ACT score, they are guaranteed a certain scholarship if they come to their school. For example, Maryville College guarantees $19,000 PER YEAR to any student who scores at least a 19 on the ACT regardless of GPA. This money is there for the taking, and most parents and students simply don't understand how big of a deal this test is in getting that money. That's what we are for.

Price
13 week ACT prep class and hybrid program
We offer two variations of the class. We offer the normal class, and we offer a hybrid option. The hybrid option incorporates one-on-one and the class. Students get all of the benefits of the class but they get one-on-one attention to help them focus on the areas where they most need help. It comes with four 1.75 hour one-on-one tutoring sessions during the course of the program. The class by itself is $660 ($697 after everything). The hybrid option is $1160 ($1215 after everything). We do these classes at our offices in Cedar Bluff (9111 Cross Park Dr.). 
One-on-one tutoring: 
We charge $220 for admission and supplies. After the initial payment, the program costs $150 per week to be paid at the end of every session. This weekly price includes the convenience of in-home (or public location) tutoring, the 1.75-hour session, any questions the student has throughout the week, and daily accountability from the tutor. We don't do any contracts or commitments, so families can do as many or as few sessions as they want. Most families do 8-12 sessions. Most students increase on a spectrum from a quarter of a point to a full point per week.
We highly recommend calling in long before you plan on starting the ACT Prep program because one-on-one tutoring spots often fill up as far out as 6 months before the test.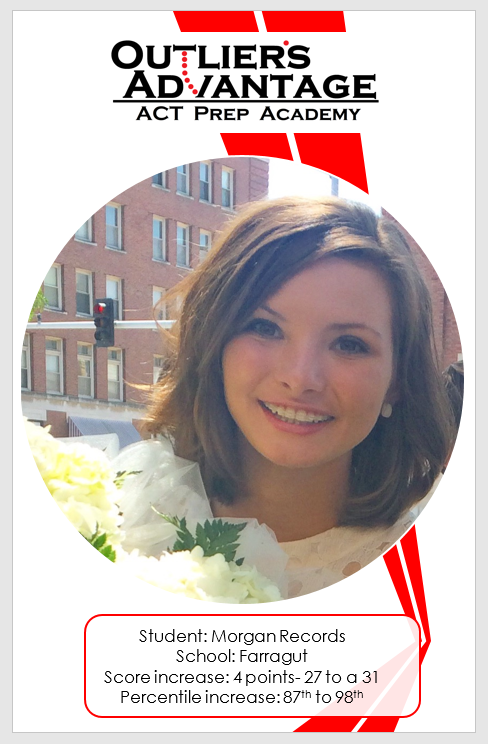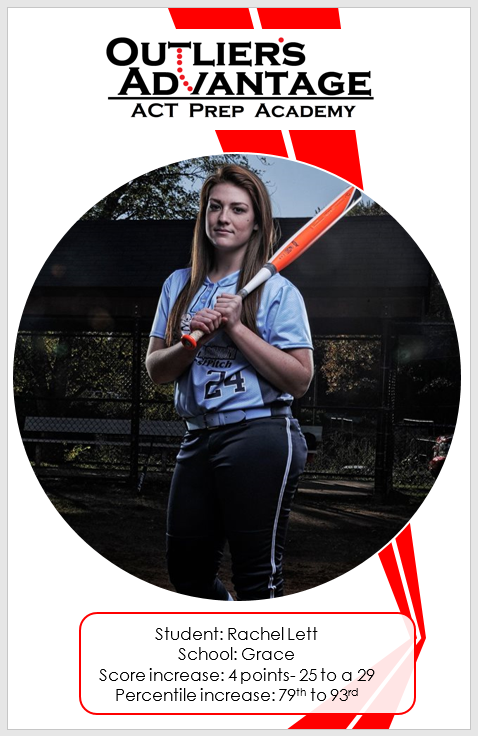 Start Dates
We recommend students start prep as soon as they can after or during the completion of Algebra 2 and Geometry.
All classes meet from 6:30-8:30 pm at our offices in Cedar Bluff (9111 Cross Park Dr. Suite D-200)
April ACT (2018): Class starts Monday, January 15th (sign up here)
Spring School ACT(2018): Class starts Monday, February 12th (Call in to sign up)
June ACT(2018): Class starts Monday, March 19th (Call in to sign up)
July ACT(2018): Class starts Monday, April 9th(sign up here)
July ACT Fast Track(2018): Class starts Monday, May 7th (Call in to sign up)
September ACT(2018): Class starts Thursday, June 14th (sign up here)
Fall School ACT(2018): Class starts Thursday, July 12th (Call in to sign up)
October ACT(2018): Class starts Thursday, August 16th (Call in to sign up)
December ACT(2018): Class starts Monday, September 3rd 
February ACT(2019): Class starts Monday, October 1st (Call in to sign up)
Call us anytime at 865-643-6030