Our History
My name is Bobby Nicholson, and I am the founder of Outlier's Advantage. My background is very different than what you might expect from a professional educator. Back in 2003, I dropped out of Farragut High School with only 12 of the required 28 credits to graduate. I tried to make it in the real world without a high school diploma, and I learned very quickly that it was not going to be as easy as I had hoped. I became motivated to go back to school and make something of my life. I earned my GED, enrolled in Pellissippi State, and began a new journey. At Pellissippi, I was fortunate enough to meet mentors who took me under their wings and taught me how to be successful at school and at life. I ended up making almost perfect straight A's through college, was president of my student body, made it on USA Today's All Tennessee Academic Team, and eventually won the international Student Excellence Award from Southwestern Advantage for my transition from high school to college.
After graduating from Maryville College, I didn't know exactly what I wanted to do, but I knew that I wanted to spend the rest of my life being to others what my mentors in college had been to me. I spent some time in the corporate world, but I decided that I wanted to be involved with education. Originally, Ransford Sarfo and I were trying to start a nonprofit called PEACE to help at-risk youth prepare for college. We were brainstorming ways to make a living running PEACE, and the one thing we did that was monetizable was the tutoring. So I started tutoring on the side to see if there was a demand, and I ended up filling up my entire schedule. This was the beginning of Outlier's Advantage in January of 2012. Eventually I had to start hiring and training other tutors to take on the excess families that were calling. Now, four years later, we have three different divisions, twelve tutors, and we cover an area that spans all the way from Blount County to Oak Ridge to Strawberry Plains. 
Our Vision
Our mission is to bring inspiring people into the lives of students to help them achieve academic and life goals. Our tutors are more than just smart people; we search for inspiring tutors who love learning, are academically outstanding, have great personalities, and are living their lives in a way that we consider exemplary. We empower these tutors to use their life experience to make a difference in the lives of those they lead. 
Our approach to tutoring is different than other tutoring companies as well. We see ourselves more as academic coaches than tutors. We are here to lead our students to success. If a student is struggling, we are here to help them figure out where they want to be, show them that they can get there if they will just follow our plan, and provide the accountability to follow that plan. For students who are excelling, especially on the ACT, we are here to help them see what could be possible. Whatever the situation, we are here to help students see that they can achieve more than they ever thought they could.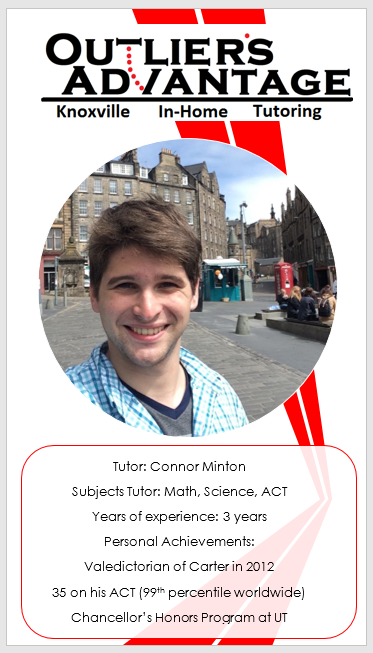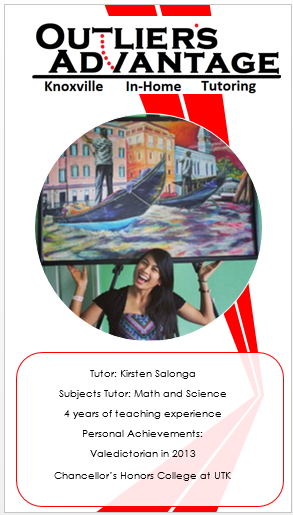 Our Future
We want to transform the educational and life achievement of the communities within which we operate. Our next goal is to build our own ACT prep software. We believe that with software specifically designed to correspond with our ACT tutoring methods, we will be the most successful ACT prep program in the country. Our goal is to be able to consistently achieve 10 point composite increases for any student who wants to do the full three month program. After that, we hope to break into the online ACT prep market. This will make Knoxville an epicenter for the ACT prep industry. 
Locally, our next venture is to start a coding school here in Knoxville. After that, we hope to start an entrepreneurial center for startups to be able to have their own space, computers, meetings, etc. to launch new companies. 
Our long-term-crazy-out-there plan is that one day our best students will become our tutors when they go to college. Then our best tutors will start other Outlier's branches in other cities or use our business incubator to start their own companies. For tutors who don't want to do either of those things, we are already in the process of building relationships with recruiting firms to ensure that they are getting the best jobs available to them within their desired interests. 
In all, we are a leadership and life development program for both our tutors and our students.